I know the wiki seems dead right now and it kind of is, but I'm still trying to edit often, and if you stumble across the wiki whether you be with Fandom staff or not, know that it will eventually make its return.
BLOB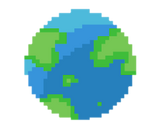 WORLD
Blob world is a skeptic zoology game where you slowly develop and change your creature in any way you want by using muscles, tendons, skin, bone, and other things to help you survive in this new strange world that is closer to Earth than you think. There are many things that can harm or even kill you like the strange new creatures in Blob World! Find beasts that can be friend or foe. Even strange natural disasters occur! With more dangers out there, you're going to need this wiki to survive! In this wiki, you will learn about the many beasts that roam the globe:
The Hipocandus
The classic tree of life we all know and love today.
The Ziptics
They have blue blood due to 98% of their tree of life lacking hemoglobin. They have hemocyanin instead. They often have a common trait of two tails, four eyes, and six limbs.
The Crozies
They always have a tail, and they typically have 2 limbs, but some species have more. They mostly have red blood, but some species have other colors of blood.
Discover strange new biomes like the Bioluminescent Caves, The Crystal Plateau and the Fungi Forest. Learn more here!

! Remember to tag Creatures and Creature when creating an organism page !
Fungi and Vegetation
What's New?
April 20, 2020:
Season 3 Is Coming!
With a great many updates including:
Read the Rules!
Never edit a page without permission! It's considered vandalism!
Don't say hate speech or threaten other people. Don't harass them or be rude to them
Please do not spam!! Or derail and necrobump on threads
Don't fluff edit or category farm, please!
Always be respectful and nice, even to the trolls. Just, report them if you do see them.
Do not abuse admin privelages
Featured Article
Gogof
The Gogof is a tier 5 animal first introduced in Season 1. It is a common ziptic found in Flat Plains and feeds on grass. They are protective of their young and care for them unlike many other species. Their beige to light tan colors help them blend in with their plain surroundings.
Read More >>

You can also be part of the larger Fandom family of communities. Visit Fandom's Community Central!
If you see this, your JavaScript might be disabled or DiscordIntegrator plugin isn't working. If the latter, please contact a wiki administrator.
And remember, everyone at the Blob World community is treated equally and with respect. Good day to all!
Community content is available under
CC-BY-SA
unless otherwise noted.